The Renown Preferred Plan by Senior Care Plus
The Renown Preferred Plan provides you access to Renown facilities and is one of the only $0 premium plans that lets you use Renown's network of doctors. It is also full of additional benefits and low copays making it a fantastic choice for Medicare.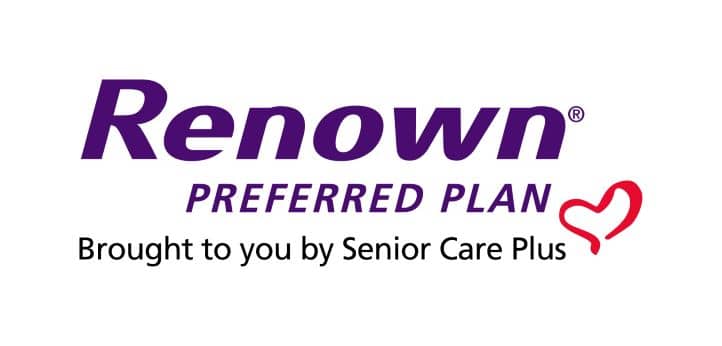 Renown Preferred Plan Benefits Include:
Renown Medicare Advantage Medication Search
Checking your prescriptions regularly is a great way to make sure you are paying the lowest amount at the pharmacy. Also, there are often alternative drugs that may produce the same result for you at a lower copay.
Just like searching for doctors, we can also search your medications and help you know how each plan covers them.
Renown Medicare Advantage Medication Search
You can search covered doctors and facilities on Prominence's website using the button below. If you have any trouble using the site, you can always call or meet with a broker in our office.
These lists change often so it can be a good idea to check in with your broker to ensure your plan still accepts your doctors.
Eligibility for Renown Medicare Advantage
Renown Medicare Advantage Plans are Available to People who Meet the Following Eligibility Requirements:
You need to be enrolled in both Part A and Part B of Medicare.
You live in Washoe County or Carson City.
To enroll, you can apply during the Annual Enrollment Period ("AEP") which starts on October 15th and ends on December 7th.
You may also enroll outside of AEP if you experienced a Special Enrollment Period. The most common Special Enrollment Periods are: turning 65, enrolled in Part B recently, moved to Nevada recently, or qualifying through the Low-Income Subsidy.
Finding the right Medicare plan that fits your needs and budget can be difficult. You can sit down with a health insurance broker in our office to discuss your options. Best of all, our brokers do not charge any fees and we can walk you through the application process.
For a complete list of available plans please contact 1-800- MEDICARE (TTY users should call 1- 877-486-2048), 24 hours a day/7 days a week or consult www.medicare.gov
Material ID:  H2960_2023_TP_HBA_Web1_M (CMS Accepted)