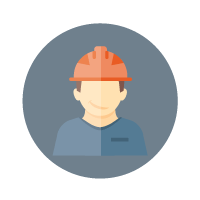 WHEN USING HOMETOWN HEALTH ABC PLANS:
Flexibility – Design your own plan to meet YOUR needs.
Protection – Protect your company with stop-loss insurance for your plan.
Predictability – Pay the same every month – no surprises!
Transparency – Know where your dollars are going – nothing hidden.
Savings – Whatever you don't spend, you keep!.
How this plan is different from a fully insured plan.
To generate profit for the carrier, the monthly premium stays the same as a fully insured plan. The insurance company retains the savings, even if the group is healthy and has no claims. Insurance companies do this, so they can pay the claims of less healthy groups. The employer pays a monthly cost, which is the maximum cost of USA Business Choice Level Funding. The employer caps liabilities, no matter how much claims cost in a month. Then the employer can return unused money to the claim fund if there are no claims outstanding for the year. It can also stay in the plan to offset future cost variances.
Defined and Contained Risk – The employer determines the maximum exposure and annual cost up front through underwriting and the purchase of Stop-Loss insurance. The standard provision includes coverage for claims incurred during but paid after the end of the plan year.

Reference-Based Pricing – Reference Based Pricing is a reimbursement method that uses objective industry databases to determine the prevailing cost and pricing for all medical services. Benchmarks are based on CMS Medicare filings and commercial data.

Stabilized Cash Flow – Maximum annual claim liability is equally spread over 12 months. If the employer's claims fund does not contain sufficient money to cover claims, the Stop-Loss insurance coverage will advance the necessary funds. Therefore, the employer will not pay again for the remainder of the year. 

Claim Fund – After the claim run-out period, remaining funds move to the next year as a credit. This is the essence of alternative funding – money not spent on benefits remains with the employer's benefit plan, not the insurance company.
Advantages of Level Funded Self Funding
Plan Design, Flexibility and Stability – Freedom to choose a plan of benefits that meet the needs of the employer, provides for simplified underwriting, plan design choice, and implement cost savings features of the employer's choice.
Claims Fund – The employer pays 1/12th of this cost each month for the 12 months of the plan year with predetermined maximum annual claims costs. After this amount, there are no other charges for the claim fund. If the employer pays all the claims for the year, they get back all unused dollars in the claim fund.
Reporting – The employer receives reports each month. These reports show where benefit dollars are going, which allows the employer to plan appropriately. Decision making becomes data-driven rather than cost-driven.