After the COVID-19 pandemic, everything seems to be going remote. And although telehealth has been around long before the pandemic, it really grew in popularity since 2020. In fact, 37% of adults have used telehealth in the past year!
Telehealth, also referred to as telemedicine, is the delivery of health care, health education, and health information services via remote technologies, like video conferencing. It gives patients the ability to meet with their healthcare provider instantly from the comfort of their home without needing an in-person visit. Here's what you need to know about the wonderful world of telehealth.
Benefits of telehealth
The primary benefit of telehealth is that you don't need to go to your doctor's office in person. You can meet with your healthcare provider from the comfort of your own home without needing to drive, schedule a ride, or take public transportation. For someone who might not be feeling well, this saves time, discomfort and, depending on the issue, even physical pain.
Because telehealth appointments are instant, it makes scheduling a breeze. You don't have to worry about commuting to your doctor's office, and your healthcare provider can easily meet with you right over the computer in an instant, even if they're not in the office.
Telehealth has also been shown to reduce the cost of care for patients and healthcare providers alike, making it a more affordable option for many patients.
Types of telehealth options
There are a wide variety of telehealth options available to patients all over the country, but most of them can be divided into four main categories. Here are the primary types of telehealth and how they can help you get the best care from the comfort of your home:
Live video conferencing
Live video conferencing is typically the most common form of telehealth care. This is where you and your healthcare provider meet via video call to discuss your healthcare problems and solutions in real time. You can describe your symptoms, ask questions, and identify the best course of action with a live video call.
Asynchronous video (store-and-forward)
With asynchronous video telehealth, medical information from the patient is recorded and stored, then sent to the healthcare provider to review at a different time. It's not a live back-and-forth like with live-video conferencing.
The information stored can be anything from recorded videos, medical histories, X-rays, photos, CAT Scans, or anything else that the healthcare provider might need to treat the patient.
The benefit of asynchronous telehealth is that the healthcare provider can take their time to review all the information before getting back to the patient with a diagnosis or treatment options.
Remote patient monitoring (RPM)
Remote patient monitoring (RPM) is when a healthcare provider continuously tracks a patient's status remotely with electronic devices like wearables, mobile devices, computers, and/or smartphone apps.
For example, a patient with a heart condition could set up their fitness-tracking watch to transmit data directly to their healthcare provider. The healthcare provider then can monitor this data around the clock to note any irregularities or issues that might require immediate medical attention.
This type of telehealth is great for patients with chronic health conditions that require constant monitoring. The patient can continue to live their daily lives without needing to stay on-site in the hospital or doctor's office for monitoring.
Mobile health (mHealth)
Mobile health, also known as mHealth, is a form of telehealth that's more about personal wellness. Rather than transmit data to a healthcare professional, mHealth devices like smartwatches and fitness trackers are for your own personal use.
For example, if you use a fitness watch to track your steps, a smartphone app to track calories, or any other piece of tech to help you monitor your own health, that qualifies as mobile health. It's a way to keep track of your personal wellness on the go.
This is very similar to remote patient monitoring, except you don't send the data to your healthcare provider. It's more for your own personal knowledge, rather than for official medical monitoring.
Are you eligible for telehealth care through insurance?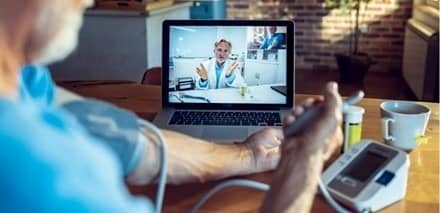 Telehealth is a convenient way to receive healthcare information, but is it covered by insurance? In most cases, yes! Most insurance carriers cover at least some form of telemedicine.
The best way to determine if you're covered for telehealth care is to contact your health insurance provider directly. You can also ask what types of telehealth coverage they offer to better understand your options.
If you would like to discuss your options and find a plan that covers Nevada telehealth care, contact the professionals at Health Benefits Associates. Our friendly staff are standing by to help you identify the best insurance plans to suit your healthcare needs.