The Team's Official Merchandiser is a Local, and he bleeds "Silver and Blue"
Wolfie jerseys, "Nevada 1" shirts, party shorts, alumni polos, Wolf Pack bucket and sports caps. Nevada logo balls, "Battle Born" hoodies and sweatshirts and even a line of "Lil Pup" Nevada teamwear for the kids. That and too many other items to list surround you at your local Silver and Blue Outfitters. The sports shopping stores at Meadowood Mall and on north Virginia near the campus are the real deal. No knock-offs and no middleman. They're the lifelong dream of the biggest Wolf Pack fan in town, Mark Glodowski.
Fan Credentials: Head of the Blue Crew and a Wolf Pack Online Forum
"I went to the games as a kid in the 80's and graduated from the University of Nevada in 2004. As a student I was president of the Blue Crew, a student fan organization." Mark also was in charge of a message board called wolfpackchat.com.  "This was in the early days of cell phones. And the iPhone was not yet invented. Social media was still a couple years away.  The message board site gave me the opportunity to interact with fans daily and discuss all things Wolf Pack. And I have been a season ticket holder myself for basketball and football for about 20 years."
Inspired by the Fans in Texas
Mark Glodowski then went to Texas A&M for graduate school and received a Masters of Science in Marketing. There, he got to experience one of the most fan-rabid universities in the country. It's a place "where community pride and school spirit run very deep.  There are multiple stores like Silver and Blue Outfitters in the College Station area.  The idea for Silver and Blue Outfitters was partially inspired by my experiences at Texas A&M." Back in Nevada, he knew exactly what he was going to do.
Building the Business in Reno
"I met my business partner Brad through the message board site and we were able to get feedback on the idea for Silver and Blue Outfitters from the fans. We even hosted focus groups where we put different merchandise in rooms and had people touch and feel the products and give feedback on what we should order to get started. I launched Silver and Blue Outfitters as a website in 2006."
"I was working full time at my primary job, and my house served as the warehouse and shipping headquarters for Silver and Blue Outfitters.  Eventually, the inventory took over my living space and my wife told me 'it's time to choose, me or the boxes.' It was at that time I knew Silver and Blue had to grow into a store front and leave the comforts of my house."
2008: The First Store Opens at Meadowood Mall
You can also shop at a second Silver and Blue Outfitters by the university campus, at 1505 N. Virginia Street. "Our stores are full of everything Wolf Pack that you could imagine! From plush stuffed animals to polo shirts and jewelry and everything in between.  We aim to have the largest selection of Wolf Pack merchandise in town, and it's a lot of fun to help design the products and bring them to life for the stores."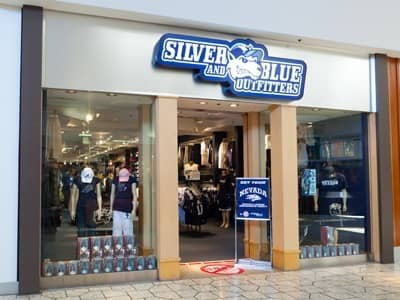 What it Means to be Official
Mark says it "speaks to our relationship with Nevada Athletics. We run merchandise concessions at games and handle online sales of merchandise through nevadawolfpack.com. This is a service that we have to bid for against other players within our industry.  The fact that we are locally owned and that we have this contract is very special to me, and I appreciate that Nevada Athletics trusts our company to do right by them and provide a service and selection that make the fans proud."
Wolf Pack Fans Around the World
"Through nevadawolfpack.com we have shipped to all 50 states and several foreign countries. A lot of these fans have ties to Reno from a previous chapter of their lives, whether they are alumni or just used to live in Reno and still love the community and the Wolf Pack.  One of our favorite things we get to do is ship orders around the country, knowing that the Wolf Pack will be represented in that town when our merchandise gets to the customer!"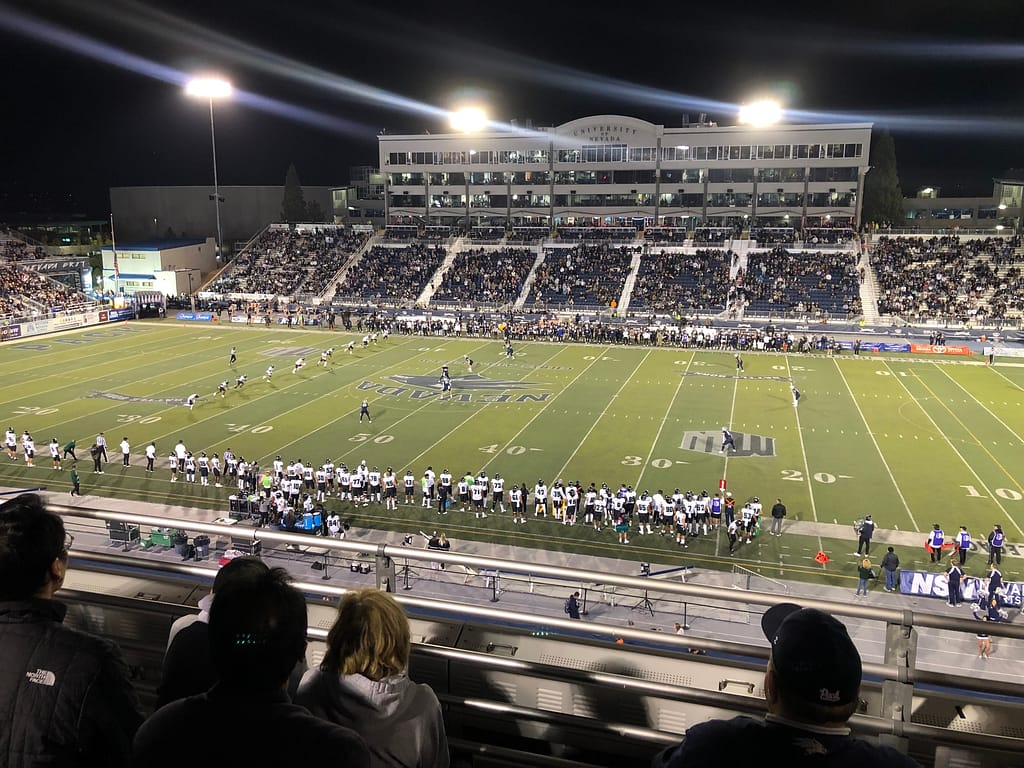 Blue Goes with Any Occasion!
Indeed it does. There's graduation, back to school, New Years, things to wear while cheering on the team and great presents for birthdays and Christmas. Buy online at www.silverandblueoutfitters.com or visit the stores, open 7 days a week at 1505 N. Virginia and at Meadowood Mall. Say hi to Mark if he's there…he'll want to talk about the team of course! "Our family bleeds blue, and some of our most cherished memories surround the Wolf Pack. I never really took a break from staying involved and doing what I could to support the University. In turn, the community has supported Silver and Blue in ways I never thought possible, and it has truly been a blessing."