Northern Nevada Medical Center Update
It started small. Sparks Family Hospital opened in 1983. Northern Nevada Medical Center then became one of the main hospitals of Prominence Health Plan. Now they're weeks away from opening up a gleaming new hospital in south Reno. The new Sierra Medical Center will offer heart, cancer, childbirth service, injury care, and more. The location is off Longley Lane at 625 Innovation Drive in Reno.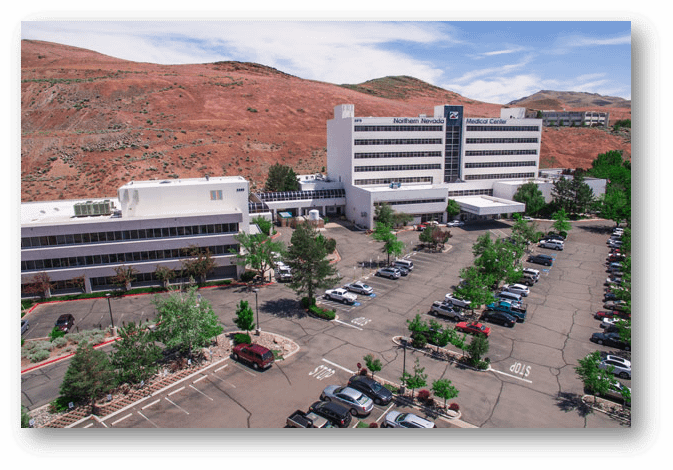 More Investment at the Sparks Hospital
The original NNMC on East Prater Way is undergoing a lot of work too. No wonder! Every year, there are well over 25,000 emergency visits to the hospital. Hundreds of inpatient and outpatient surgeries take place, many using robotics. That's a growing necessity. Technology and methods of care continue to update and progress at a rapid speed. Northern Nevada Medical Center and the healthcare industry as a whole have to keep up with the changes.
Last Fall, work finished on a fully renovated parking lot offering more visitor and patient spaces. The next addition will be new signs to help patients and their families navigate the hospital grounds better.
Changes Made on the Inside
It's a whole new look for Northern Nevada Medical Center. System director Jamii Uboldi tells us, "Our nursing units and desks were fully updated. They look amazing.  Also, a fully renovated cafeteria. There's more to come. A local coffee shop will open soon inside the café. The rest of the interior involves flooring, paint, décor, and furniture updates."
The new design makeover at the Sparks hospital closely resembles their new south Reno hospital. The $300 million Northern Nevada Sierra Medical Center broke ground in October 2019. That put it in the unique position of being built during a pandemic. All 172 private rooms at the new hospital are set to open by late March. Earlier this year, hiring events were held to get it fully staffed.
But as so much attention is paid to our area's newest hospital, be sure to check out the upgrades in Sparks. As Uboldi tells us, "More is coming" for Northern Nevada Medical Center.
Find Out More
For more information about Northern Nevada Medical Center, click here: www.NorthernNevadaHealth.com
Northern Nevada Medical Center has a 4-star rating from The Centers for Medicare and Medicaid Services. That was the grade for both patient surveys, and overall. You can check the rankings of other area hospitals here: Hospital Rankings
In addition, if you need help finding a plan to cover this hospital, reach out to Health Benefits Associates here: https://healthbenefits.net/reno-health-insurance-broker/