Change, like healing, takes time. Or as the Prominence Health Plan website itself notes, "Change is often not easy." No doubt many people rightfully concerned about their health plan can attest to that.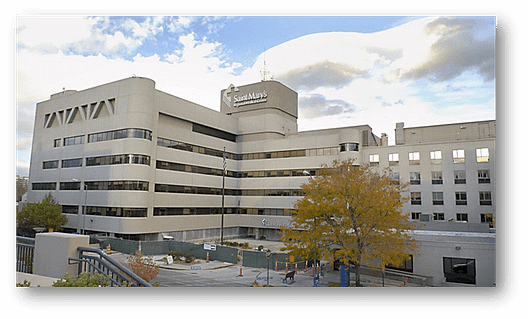 On August 17th 2021, Saint Mary's Regional Medical Center announced they terminated their contract with Prominence HealthFirst. That means the hospital is out of that network, and Prominence HMO members will not have access to their low "preferred partner" rates there.
But the decision doesn't affect everything with Saint Mary's.
The change only applies to Saint Mary's Regional Medical Center, not Saint Mary's Medical Group, which runs care locations outside of the medical center. Saint Mary's says those centers remain "in-network with Prominence HealthFirst." Saint Mary's also reassures that "all patients, regardless of insurance, can continue to receive emergency care at Saint Mary's Regional Medical Center without additional cost due to the termination."
What happened to trigger this move? We'll start with Saint Mary's, which says Prominence "failed its members by refusing to authorize medically necessary care, failing to timely pay for medically necessary services, failing to provide adequate access to post-acute care"
Prominence's response?
"While we disagree with assertions in their termination notification and believe that their contentions are unsubstantiated, we are working to resolve this dispute by all the means at our disposal. If our efforts to resolve the dispute are unsuccessful, prudence demands that we begin work now to ensure continuity of care for our members as Prime/Saint Mary's is now forcing those members to choose new providers for the impacted services."
At Health Benefits Associates in Reno, private Medicare advisor Matt Law tells me he has been, and still is working on solutions for impacted members. As he puts it, "Prominence and Saint Mary's are not the only companies changing their relationships. We have seen multiple insurance companies cut ties with different medical groups and hospitals in 2021. It is always a good idea to talk to a Medicare Adviser to understand these changes each year. Prominence re-established their contract with Saint Mary's Medical Group and Saint Mary's Urgent Care on October 26th, 2021. Saint Mary's Regional Medical Center is still out-of-network with Prominence HMO for non-emergency services."
Prominence backs that up with their statement that the recent change only affects "approximately 10% of the Prominence membership in Northern Nevada…
Specifically, those members enrolled in a commercial HMO plan or a Medicare Advantage plan. This change does not impact Prominence members enrolled in a PPO or POS plan."
If you're part of the 10%, Prominence Health Plan has a concise, understandable website page for members affected by the change. There, you'll find their list (with photos) of current providers. It's up-to-date with "expanded access to existing Urgent Care Centers and urgent care-like services in Northern Nevada by extending weekday and weekend hours."
Another pdf page lists all Urgent Care, 24/7 and Same-day-next-day care options Prominence members can use. Another page is a map of participating medical offices, hospitals and Urgent Care centers. You'll find them all here:
https://prominencehealthplan.com/prime-healthcare-information-for-members/
But what about the future?
What's being done to ensure that you are not hurt by a similar situation later? For their part, Prominence says they're planning additions to their network, with more primary care providers, specialists, hospital beds and urgent care centers "than before this change".
Also, Prominence is looking forward to covering plan members at the new 350,000 square foot Northern Nevada Sierra Medical Center, set to open off Longley Lane near Huffaker Hills in March. Northern Nevada Health System calls it, "the first full-service hospital to be built in the region in nearly a century", offering private patient rooms and a full range of medical services including cardiology, oncology, labor and delivery, neurology, orthopedics and much more. A full list of services, along with photo renderings of what promises to be northern Nevada's newest and most modern hospital can be found here: nnmcsierra.com.