Sierra Medical Center: Reno's Newest Hospital
A new 24-hour, 170-bed hospital, the first of its kind in south Reno, is now up and running! After receiving its occupancy permit on March 18th, Northern Nevada Sierra Medical Center staff opened their doors to patients on March 31st. Laura S. was my tour guide for a special show-and-tell to check it out for myself!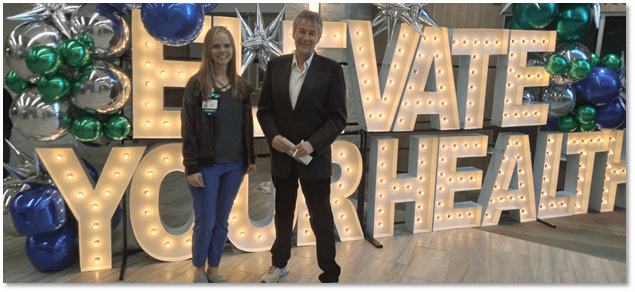 Location, Location, Location
How far south is the new hospital in Reno? About as far as Reno's Target store is. The Sierra Medical Center's address is 625 Innovation Drive, Reno. There's direct access from both Longley Lane and Double Diamond Road. It is all new. I'm told it's the first area hospital "built from the ground up" in over a century.
First Impressions
It's amazing what can be built in the 2 and a half years since ground was first broken. The 245,000 square-foot, 4-floor building cost $301 million to build. One portion of the budget was set aside just to keep things quiet: $7.5 million went to noise abatement for a quiet, healing experience.
And check out the view from one of the higher-floor waiting rooms.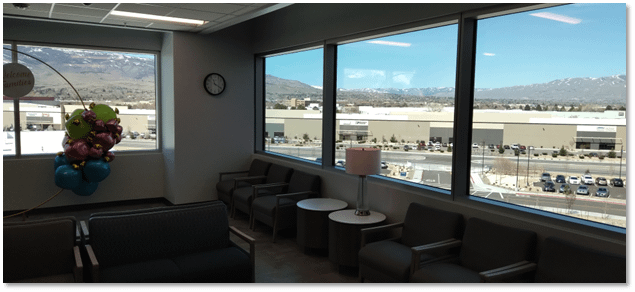 See all the space above the lower roof? Laura says the hospital building is designed to expand, based on our community's needs. If we keep growing like we are in the Truckee Meadows, there may be more here than what is already here.
Hospital Services
Northern Nevada Sierra Medical Center is not a trauma center. The hospital does serve patients recovering from debilitating illnesses and injuries 24-hours a day. An entire floor is set aside for emergency care with 38 beds. Another is dedicated to women and children treatment: births, pediatrics, and neonatal intensive care.
Altogether, NNSMC has 170 private patient rooms, a gift shop near the main entrance, a "spiritual room" on the first floor and a cafeteria. As for in-room dining, Laura tells me there is "no generic hospital food" here. As a patient, you will call in from your room to order what you want to eat. Their menu also covers some specialty diets.
Oh, again with the view! This one's from one of the private rooms:
Good News for Those Who Like Privacy
About the rooms, none of them are shared. All 170 are private just as they are at their sister hospital, Northern Nevada Medical Center in Sparks. An extra special touch: room walls without windows have a scenic portrait of a view, and a large-screen 50-inch TV faces the bed.
Checking Out the Innovations
You might see cleaning robots cleaning the floors in the ER during your stay. And have you ever heard of "Indigo-Clean lighting"? That's new to me, too. It's a new high-tech system using a particular spectrum of visible light to kill harmful viruses and bacteria. Its manufacturer says the light bathes spaces and is "effective at killing SARS‑CoV‑2 (the virus that causes COVID-19), Influenza‑A, Staph Aureus and a list of harmful pathogens." This is what it looks like:
The rooms have sensors, so when any person gets near the room, the sterilizing lights shut off and regular lights come on.
Some More Uniqueness
NNSMC is Nevada's first seismic-built hospital and has been named the most energy-efficient hospital in the area.
Again, it's open now, and the 500 just-hired staff members will be happy to welcome you. For more information, click here: www.NNMCSierra.com.
For more information on what health plans work at Northern Nevada Sierra Medical Center, visit Health Benefits Associates here: https://healthbenefits.net/reno-health-insurance-broker/