Big things are coming in 2024 for Nevada Part D Medicare coverage. As part of the Inflation Reduction Act, the federal government has implemented several changes to Medicare Part D coverage that will make healthcare more affordable for Nevada residents. If you currently use Medicare or will be starting soon, here's what you need to know about the changes coming in 2024.
Changes coming for 2024 Nevada Part D
At the heart of the 2024 Nevada Part D changes are updates to pricing and what's covered. Specifically, here are the main highlights:
Insulin will cost no more than $35 for Medicare beneficiaries, as long as it's on the carrier's formulary.
Vaccines will be covered at 100% for all ACIP-recommended vaccines, including Shingles, Tdap (tetanus, diphtheria, and pertussis/whooping cough), and Hepatitis A.
Cost sharing for Part D beneficiaries will be reduced in the catastrophic phase.
Beneficiaries may be able to receive additional help covering the cost of medications based on income.
In addition to these upcoming benefits, new legislation has also imposed new requirements on drug manufacturers that could reduce the cost of many Part D drugs. Even more, savings are on the way!
But although all these positives are coming, there is one negative change coming in 2024. Unfortunately, the standard deductible for drug plans will increase to $545. This is not surprising as the deductible tends to increase every year.
Some carriers may offer lower deductibles, but it'll be important to do your research before deciding on a Part D drug plan.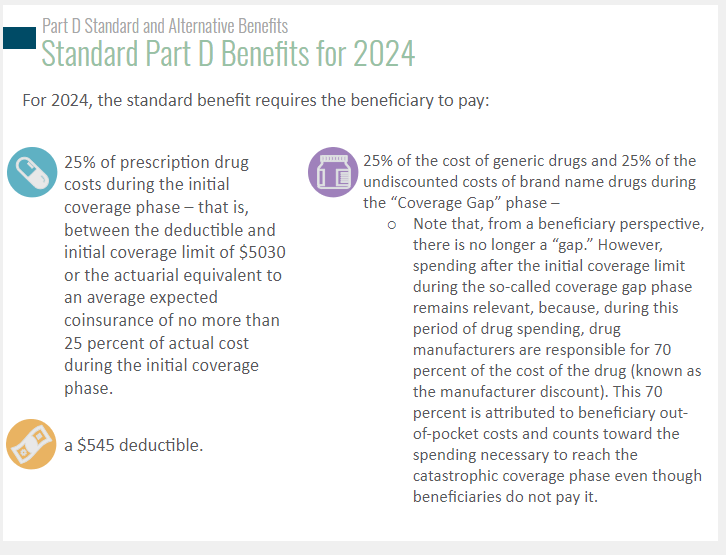 Need more information?
The intricacies of the 2024 Nevada Part D changes can be difficult to understand, but it's important to be aware of your coverage and how these changes affect your ability to receive important medications and procedures.
If you'd like more information about Medicare Part D and the changes that may impact your coverage, feel free to contact the health insurance experts at Health Benefits Associates. Whether you'd like to get updates about your existing coverage, sign up for Medicare, or learn about other potential health insurance options, we're always here to help!