After you have a hospital stay, it's the last thing you'll want to think about:  How much will this really cost, and how much will I owe?  Fortunately, health insurance companies send out a document to help answer this question.  It's called an Explanation of Benefits or EOB.  This document is like a receipt for each insurance claim.  First and foremost, it confirms that the insurance company has processed the claim.  Secondly, it indicates how much they believe you owe.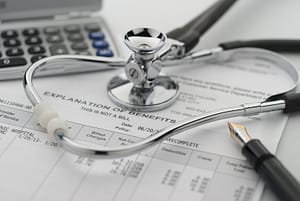 Matching Explanation of Benefits with Bills:
A common practice for health care providers (physicians, hospitals, labs etc) to send invoices to patients for the full cost of services even before the insurance company has processed the claim. Because of this, it's always important to match each invoice with an Explanation of Benefit before making any additional payments. This confirms that the insurance company received and considered your claim. It also provides you with an amount that your insurance company expects you to pay for each claim.
Confirm that the claim was processed correctly:
You should always confirm that the claim is processed correctly. The Explanation of Benefit always breaks down the claim to show the amount that they expect to pay, and that they expect you to pay. The Explanation of Benefit also details any irregularities that may cause a denial of your claim, or cause it to process differently than any other claim.
Keep in mind that your insurance company doesn't keep track of the payments that you've already paid the provider. The Explanation of Benefit will indicate the total responsibility that you'll be responsible to pay, including your copays or deductibles that you may have already paid to each provider.
Individual Health Insurance Quote Here!
Appeals:
If your claim processes incorrectly, you will want to appeal the claim with the insurance company. The appeal is a request to reprocess the claim.  It also gives you an opportunity to provide your feedback about how you believe the insurance company should pay the claim and why.  Keep in mind that you have a limited amount of time to make this appeal.
My biggest piece of advice is to always match your Explanation of Benefit's to your invoices before paying the invoices.  Providers have the potential to receive double the payment. First, from the invoice that they send to you, and then from the insurance company.  Retrieving money from a doctor's office after it's been double paid can be very untimely.  It also adds a layer of stress that I wouldn't wish on anyone.