What is the Annual Open Enrollment period?
The Annual Open Enrollment Period (AEP) is October 15th through December 7th. This is the period when everyone with Original Medicare can change their Medicare health plan and their prescription drug plan for the following year. This is a great time to review your current plan and see what other plans are out there. Healthcare is constantly changing, so making sure you're on the correct Medicare plan regularly is crucial. 15th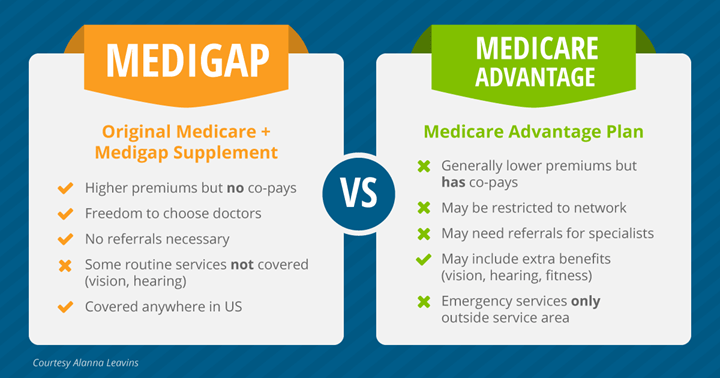 Different Options:
There are two different options for medical coverage; Medicare Advantage and Medicare Supplement. 
Option 1:  Medicare Advantage, also known as Part C of Medicare. 
There are three major types of Medicare Advantage plans :
1.    Health Maintenance Organization (HMO) plans- In most HMO plans, you have a network list of doctors, providers, and hospitals that you have access to. Some plans require referrals, but not all.
2.    Preferred Provider Organization (PPO) plans- This type of plan also has a network list, but you can see other doctors, providers, and hospitals that are out of this network list However, you will usually pay more.
3.    Private Fee-for-Service plans (PFFS)- This plan is similar to Original Medicare. Meaning, you can generally go to any doctor, provider, or hospital as long as they accept the plan's payment terms.
Option 2:
The other medical option is a Medicare Supplement Plan, also known as Medigap. With this plan, it helps cover the 20% coinsurance from Original Medicare. With a Medicare Supplement Plan you are able to see any doctor Nationwide who accepts Federal Medicare. Something to note; if you decide to go with a Medicare Supplement Plan you also need to purchase a standalone Prescription Drug Plan (PDP).
There are two different options for Prescription Drug Plans. The first is a standalone prescription drug plan. This is what you would add to a Medicare Supplement Plan. Or, the second, as discussed earlier, you can get a Medicare Advantage plan that includes a Prescription Drug Plan.    
Some things to consider when looking for a Medicare plan:
Have your doctors changed? If you have any doctors that have changed throughout the year it is possible your current plan may not cover this doctor anymore. 
Has your prescription drug plan changed or increased in price? Every year prescription drug plans can change which medications are covered, increase their premiums, or increase the prescriptions themselves.
Did your premium amount surpassed the point of affordability? Some Medicare plans increase annually as we age and changing plans may reduce your monthly premium significantly.
Has your medical situation changed? Life can be unexpected, and health issues can come out of nowhere. Making sure you are on the correct Medicare plan for your current situation is paramount.
Remember, Medicare is not a one size fits all. There are many factors when choosing a Medicare plan; The county you live in, the doctors you see, the prescriptions you have, your current medical condition, etc. The plan your relative, neighbor, or friend may not be the right fit for you and your specific needs. 
How we can help with the Annual Enrollment Period
We are always keeping up with the changing market, so we will be able to assist you if you have any questions. If you are on the correct plan for you, we will let you know that as well! Don't call a 1-800 number. Speak to someone that is here locally in Northern Nevada. We have offices in Reno, Sparks, Carson City, and Fernley! Call a Medicare Advisor today at 775-828-1216. There is no cost for our services, and we look forward to hearing from you!
If you need more explanation on Medicare coverage, costs, or enrollment visit: https://www.healthbenefits.net/medicare