No more long drives to Reno to meet in-person with a Medicare plan advisor
Customer satisfaction is high, and thanks to so much positive word of mouth, Health Benefits Associates has expanded its Medicare advisor offices over the years. We're in Reno, Sparks, Carson City, Truckee…and now Fernley! If you need help with Fernley Medicare Advantage plans, this is the place to go.
We received a great welcome at our ribbon-cutting July 19th. On hand: a good crowd of residents welcoming the new Health Benefits Associates office. HBA's Matt Law says "We had a great turnout, even the fire department showed up. We had a raffle, gave away two big prizes and received new prospective clients!" As Fernley City Councilman Ray Lacy told us, "Congratulations! It is always nice to have a new business in town. It is very important for the people in Fernley to have a local resource for health insurance and Medicare."
Our new office is "local" through and through. Fernley resident Katie Mendoza is HBA's head advisor for the new location. You can make an appointment and meet for no-cost help in choosing the right Medicare plan for you. Convenience for fellow northern Lyon County residents is another great advantage. As Fernley Mayor Roy Edgington Jr. told us, "I just signed up for Medicare through the state, and I wish I had a resource like you guys. It was daunting to turn 65. I am so happy we have a local office to help our community. It is a really good resource for our community. The community is a lot larger than people think! There are many people in surrounding areas that can now get local help with their health care!"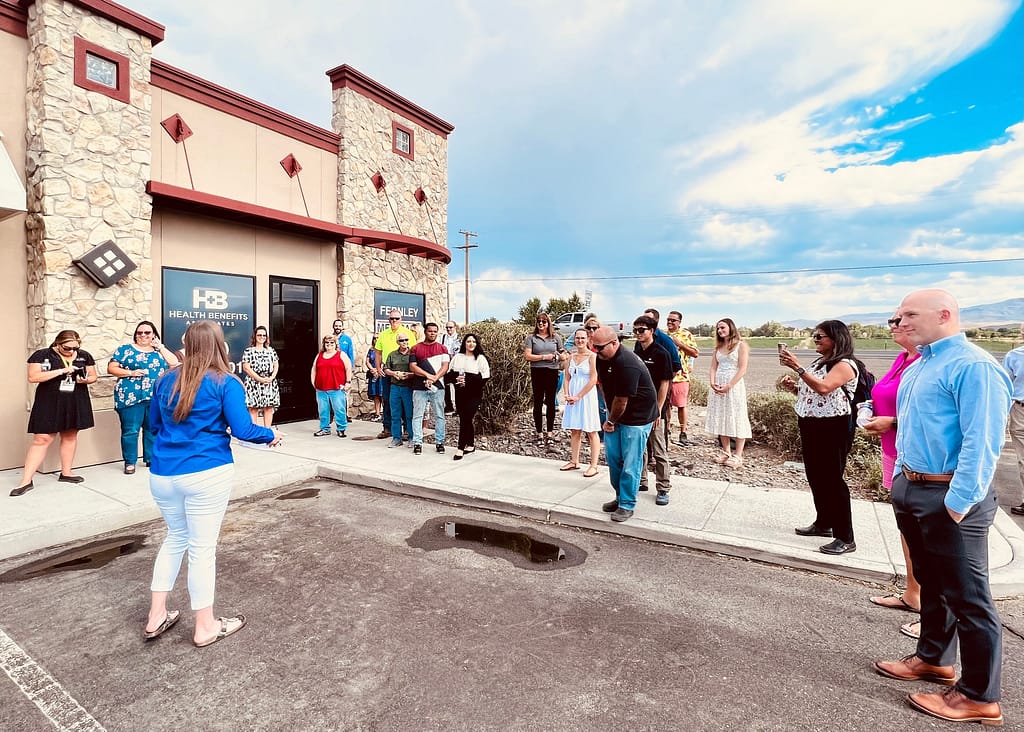 Fernley Medicare Advantage Plan Help
Fernley is considered "Nevada's newest city." Many consider it to be Nevada's fastest-growing too, yet it's a quiet and peaceful community. Fernley City Hall opened in 2001 when its population was 9,529. Today, it's estimated at well over 20,000. Why? Take a drive and discover what's here:
–Close proximity to Interstate 80, U.S. Route 95 and 50 Alternate. Fernley has abundant land for housing, making for a more affordable alternative to the congested Reno-Sparks real estate market. There's the Reno-Fernley Raceway and the nearby Lahontan Reservoir. Also close to town is the Tahoe Reno Industrial Center.
–It's a community in the truest sense: 3 elementary schools, 2 middle schools and Fernley High School, home of the Vaqueros "orange and black". The school is well loved and supported by residents who formed the Fernley High Boosters.
–Here, small-town values are strong. Fernley is home to the Northern Nevada Veterans Memorial Cemetery, known for its solemn and emotional Memorial Day services to honor fallen soldiers.
–Fernley is friendly and helpful to seniors. The Lyon County Senior Center in the middle of town provides weekday lunches, meal deliveries, transportation and social service programs. It's in town right off Main Street at 105 Lois Lane.
–And now for seniors and their families, the new Health Benefits Associates office. Even if you have Medicare Advantage and have questions, see Katie! Many people change Medicare plans and there may be a better fit for you. New and more affordable plans may be available. There's a "changing season" window coming up, so if you live in the Fernley area, make a no-obligation appointment with Katie to check your options. Our address is 460 W. Main St., #101. The HBA Fernley office phone number is (775) 828-0001. Online, you can always find out more at www.healthbenefits.net.
Like the headline says, Health Benefits Associates is here to help, and we're very happy to be at your service in Fernley!