Cats and caffeine: Reno's "Enchanted Cat Cafe"
Cat Cafes are a thing folks! Now Reno is embracing a trend that began in the Far East years ago. They have long been big in Japan. I encountered my first cat cafe in San Francisco 5 years ago. No, they're not places where felines go to meet up with other cats. There's typically a café with a full drink menu and a separate cat lounge. You get your coffee and hang out with peaceful, soothing, purring, adorable (can you tell I'm a cat guy?) kitties.
The first one, The Radical Cat, is more of a bookstore/art shop with coffee available at Magpie Roasters next door. It opened early this year at 1717 S. Wells Avenue and the "purring cats" are adoptable. You'll find information, pictures and hours on their website: https://theradicalcat.square.site/
The second is Enchanted Cat Cafe. This one's in south Reno with its own coffee shop in the front, cat areas upstairs and in the back. Owner Kallie Laity has worked at pet hospitals, volunteered at the Humane Society and has always loved animals. Today she says she is "living my dream." Why cats? "Ever since I was brought home from the hospital I've had them in my house. I'm an only child so they've been my siblings and best friends while I was growing up."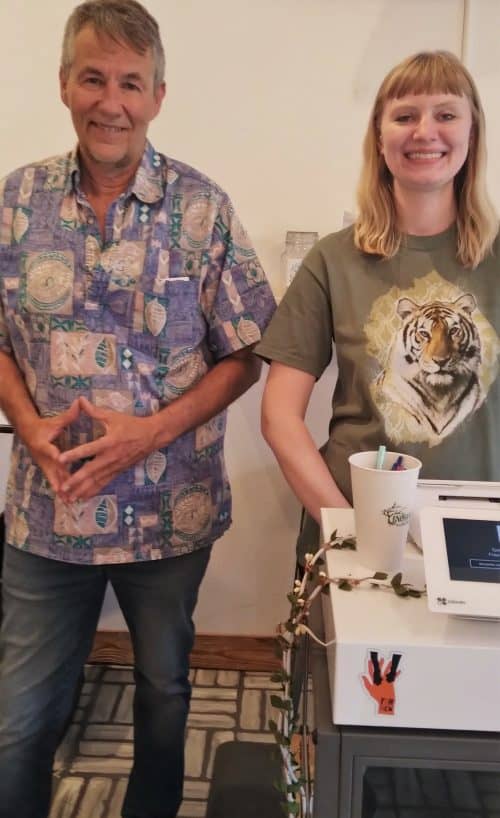 Cat Lovers Converge and Connect
Plans for her own cat café began soon after she visited her first one in Austin Texas. The Enchanted Cat in Reno opened January 1st this year. Her first surprise? How her customers like to connect: "They want to show you pictures of their kitties and talk about their cats." Other visitors, especially seniors, just find the roaming cats a peaceful environment for their own me-time. Kallie says "A lot of people will just come in here and read or work." Free wifi is available to all.
Cat cafes have found another clientele: residents who lack the space or time to have their own cats. Places like Enchanted offer that feline interaction for a small investment.
My wife and I stopped by at around noon. About 5 other seniors were in the cat lounge. Each one had a cat paying full attention to them. Two ladies smiled as they softly waved feather toys at their "hosts". Two others enjoyed petting their new partners. One was reading with a cat by her side. We found a cat by itself and had a seat by one. Looking around, I was surprised at the size of this place! For the first floor cat lounge we were in, I could tell that minds were at work here to make it a pussycat paradise. There's room to roam, a tree, resting hammocks attached to walls, cat trees, cat houses, boxes with holes for kittens to hide and a bookcase with board games for people. Cat toys are scattered everywhere.
You can play and hang out with Stewie, Espresso and Lois (if they haven't already been adopted).
I guess you could say the cat lounge is like dating, but with cats! Maybe one will "choose" you! If you develop that special bond and are interested in adopting one, fill out an application. Kallie says all the cats in the lounge are adoptable and ready with "exams, microchips, spayed/neutered, vaccines…everybody's good to go." Where do they come from? Enchanted Cat Café partners with agencies like Animal Rescue Group of Northern Nevada (ARGONN) and Precious Paws Society of Northern Nevada in the Fallon/Fernley area. Since the café opened this year they've already done close to 75 adoptions.
The cats live at Enchanted full time until they're adopted. Kallie says it's  "their foster home until they find their forever home. They are free-roaming and get to hang out here all day/all night. I've got cameras to watch them and see what they're doing in the middle of the night."
Cat Lounge access is limited to 15 visitors. It's not just for seniors: all ages are welcome, though ages up to 15 must be accompanied by an adult. Book ahead and you won't have to wait!
Enchanted Cat Cafe partnered with Lighthouse Coffee and Glory Cloud Coffee. For food, there are items to enjoy from Mother of Macros and Kimmie Candy. Gluten-free items too.
Cats and food and drink service don't meet; health regulations dictate the two be separated. Enchanted Cat Café also has a cat-free meeting area in the café room. After you get your café drink you are welcome into the cat lounge areas, where admission is $15/hour and free for kids 5 and under. Or you can buy monthly memberships for $45. Yearly memberships come with 1 month free. With those, Kallie says, "You can just come in as many times as you like. You get 10% off food and merchandise and you get to go to special members-only events."
Tuesday is "Toe Bean Tuesday" at Enchanted. The 2 for 1 deal offers half the price for visiting the cat lounge if you bring a friend or family member. Enchanted says there will also be cat-centric events with space for private events.
So check it out! Enchanted Cat Café is at 8555 Double R Blvd. They are open Thursdays through Tuesdays. There is plenty more to discover here: https://enchantedcatcafe.com/