Steps on How to Get Health Insurance When Moving to Nevada
Moving is stressful. Plain and simple. There are so many moving parts to when you are picking things up and moving, especially when it's across state lines. Why add one more thing with health insurance? That is why I am going to outline the steps on how to get health insurance when moving to Nevada.
If you find yourself moving between the dates of November 1st- December 15th, then you do not need a qualifying life event to enroll in health insurance. the only problem with this is that the policy will not start until January 1st. So using a qualifying life event is the best way to obtain health coverage quickly.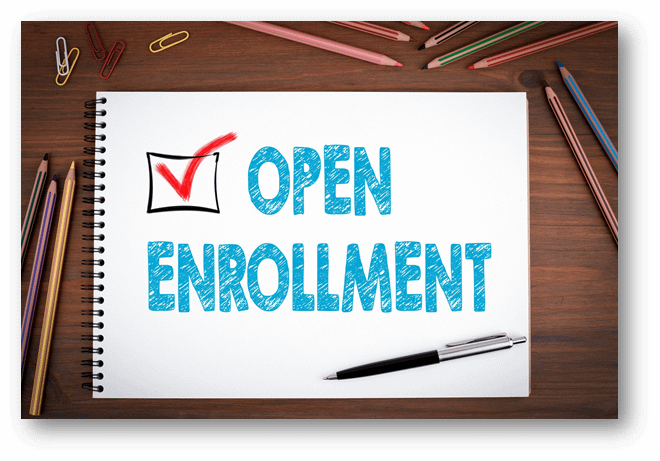 Now the big question is, what is a qualifying life event?
Qualifying Life Events Needed When Getting Health Insurance When Moving to Nevada
According to Healthcare.gov, a qualifying life event is defined as "a change in your situation that can make you eligible for a special enrollment period." You are probably asking yourself, "have I experienced a qualifying life event?" Well let me go over what exactly a qualifying life event is.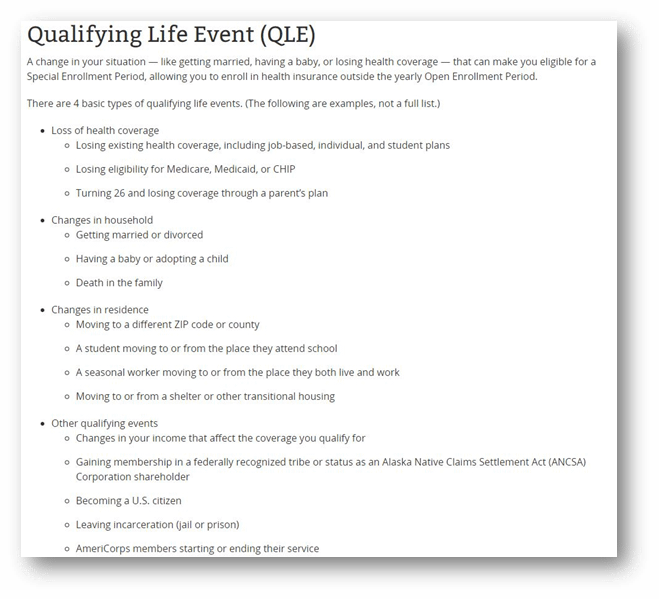 Qualifying life events will be one of the following:
Marriage
Divorce
Birth of a Child
Involuntary loss of coverage
Moving out of the service area of your previous plan
How much time do I have?
The clock starts from the time of your qualifying life event. In the scenario that we are covering today, the time starts from the day you moved to Nevada. From that point, you will have 60 days to provide documentation of your move. Most companies are the same on the documentation requirements.
The documents that are required to show proof of move would be:
New lease from Nevada and the lease from your previous residence
Nevada driver's license as well as previous state's driver's license
Utility bill from previous as well as new Nevada residence
When you move out of the area, most insurance companies will cancel your plan due. This is due to not being in that companies service area. You can always use that as the involuntary loss of coverage QLE as well.
Finding a broker to get health insurance when moving to Nevada
The next step on how to get health insurance when moving to Nevada would be to find local help. The best help you can find is someone who knows the industry inside and out. That help would come in the form of a broker. Yes, this is slightly self promoting, but this is our job. We shop every plan in the state so you are in the best plan for you and your families needs.
Shopping Plans
The first thing to take into consideration when looking at plans is whether or not you want a PPO or an HMO plan. There are pros and cons to each type of health coverage. To get a better understanding of each type of plan, here are a few pros and cons on each.
Pros:
Freedom to see who you want, when you want.

PPO plans do not have referral requirements when you want to go see a specialist. You can bypass your primary care physician if you know what specialist you want to see.

Larger Networks

Most PPO's have a larger list of doctors on their plan.

Out of Network Benefits

PPO plans allow you to receive care from out of network doctors. The deductible requirements and co-insurance on out of network benefits are usually much higher though so be careful!
Cons:
Price

The premiums for PPO plans are higher than that of HMO plans

Communication between doctors

When you are able to skip the primary care physician, your doctors may not talk to each other as well as they would with a referral.
Pros:
Premiums

The premiums on HMO plans are usually 10-15% lower than what you will see on PPO plans

Communication between doctors

The best part of an HMO is that your primary is giving referrals to other doctors. This way, they talk to one another to get you the best care possible.
Cons:
Smaller network

HMO plans typically do not offer the same network as PPO plans do

Always having to get a referral

This can drive up costs as you will always have to pay your copay or office visit to your primary before doing the same at a specialist

No Out of Network Benefits

HMO's only offer In-Network benefits
Now that you have a good idea of what each plan has to offer, its time to look at the benefits structures
Different Parts to Benefits
There are a few things to know when looking at the benefits structures of each company. Like what is a copay, deductible, or max out of pocket?
Copay
A copay is a set amount that you will pay when you go to receive a service.  In the example below, the copay for urgent care is $70. This means that each time you go to the urgent care, you are responsible for this up front cost before you receive service.
Deductible
Your deductible is the amount of money that you will have to pay until there is some sort of cost sharing with the insurance company. This cost sharing could come in the form of copays or coinsurance.
Coinsurance
This is the percentage of the bill that you have to pay. In the example below, the coinsurance is 20% after the deductible has been met.
Max out of Pocket
This is the maximum amount of money you will spend when you have this plan. In the picture below, the max out of pocket is $6000
The biggest thing to take into consideration is that the lower the copays, deductibles, and max out of pockets, the higher the premium.
Applying to get Health Insurance When Moving to Nevada
The last step of the process is to apply. Once you and your broker have chosen which company and plan you want to go with, it is time to apply. Typically, your broker will walk you through these steps. They will get the applications prepped for you so all you have to do is enter your personal info and first month's payment.
The policy will start on the first of the month following the submission of the application. There is no backdating health coverage so keep that in mind. You may start the policy on the first of the month a maximum of three months in advance.
Make sure to have your broker walk you through it in case you have any questions on the application.
That wraps up our how to guide on getting health insurance when moving to Nevada. If you have any questions or need to talk to a broker, give our office a call and we will be happy to help you. 775-828-1216