Earlier this year, President Trump issued an executive order allowing consumers to enroll in short term plans for an entire calendar year. Per Nevada Revised Statutes, this executive order does not affect the maximum term length established in the Silver State. Nevadans will still be able to get short term plans for a maximum of 6 months per year. These plans are non-renewable. The state of Nevada recommends that consumers shop for qualified Reno health insurance plans since they offer stronger and longer coverage.
Benefit Limitations
There are many short term plan limitations when compared to Qualified Health Plans. These short term plan limitations may come as a surprise to consumers who enroll and do not read the fine print of the contract. Also, applicants answer health questions on the enrollment form. Depending on health history, the consumer may be denied coverage.
If enrolled on the plan, short term policies can impose post claim underwriting. Post claim underwriting is when an insurance company reviews the medical history in an attempt to deny the claim.
The biggest short term plan limitation is the lack of coverage compared to a Qualified Health Plan. Qualified Health Plans include the 10 essential health benefits as mandated under the Affordable Care Act. These 10 essential health benefits protect consumers with emergencies, hospitalization, maternity, prescriptions, etc. Short term plans are not required to cover all of these major benefits. Short term plan limitations like these can leave consumers with expensive medical claims or no coverage.
The Nevada State Exchange, NV Health Link, recently published this listing of the short term plan limitations: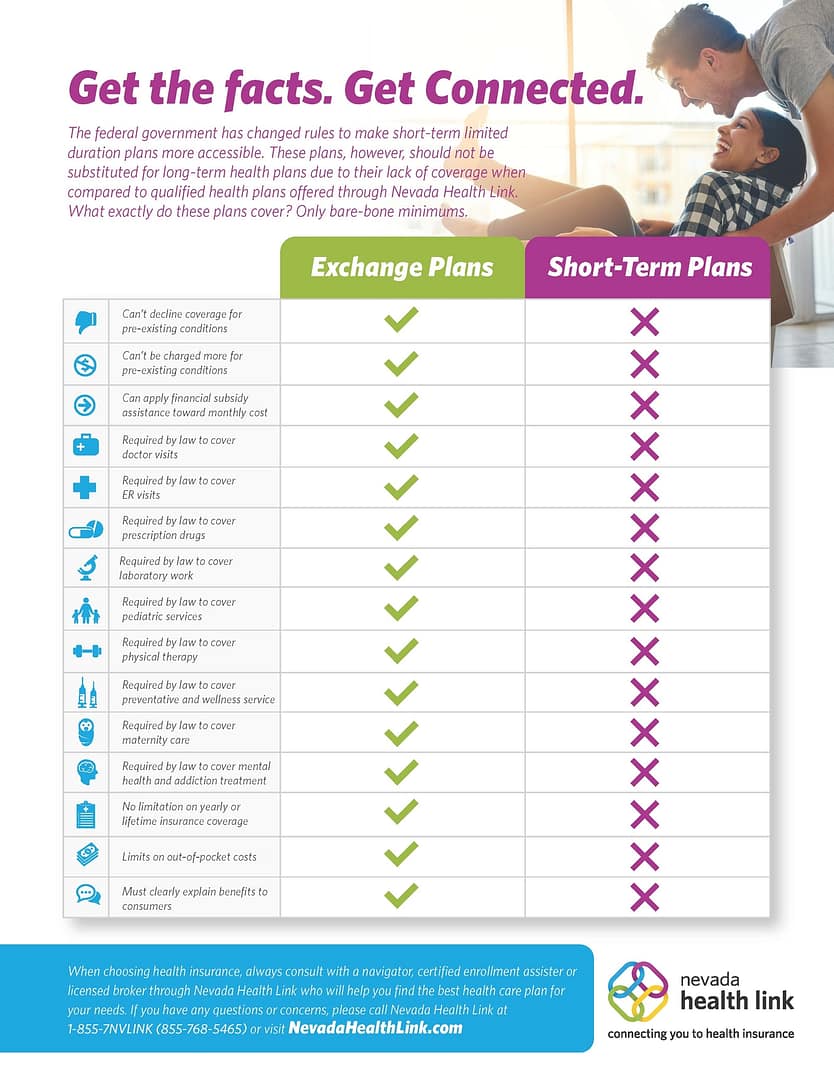 Qualified Health Plan Enrollment
The 2019 Open Enrollment Period for Qualified Health Plans starts on November 1st and ends on December 15th for coverage starting January 1st. During this time, consumers should shop their options and determine what is best for their needs. Unlike some brokers in Nevada, Health Benefits Associates and our health insurance brokers do not charge any fees to assist consumers with Qualified Health Plans. Give us a call today to learn more about insurance!