Businesses that offer insurance benefits to employees might be required to offer a continuation of coverage to members terminated from the group plan. This continuation of coverage, or COBRA for short, is a government regulation under the Department of Labor. COBRA is the abbreviated name for the Consolidated Omnibus Budget Reconciliation Act. Fortunately employers do not have to contribute towards Nevada COBRA premiums, unlike standard group health plan coverage.
COBRA requires group health plans to offer a continuation of coverage to covered employees, former employees, spouses, former spouses, and dependent children in certain circumstances. Depending on how the enrolled member was terminated, their Nevada COBRA will last a specific duration of time. Here is a graph outlining the specific terminations and the length of Nevada COBRA coverage they are entitled to: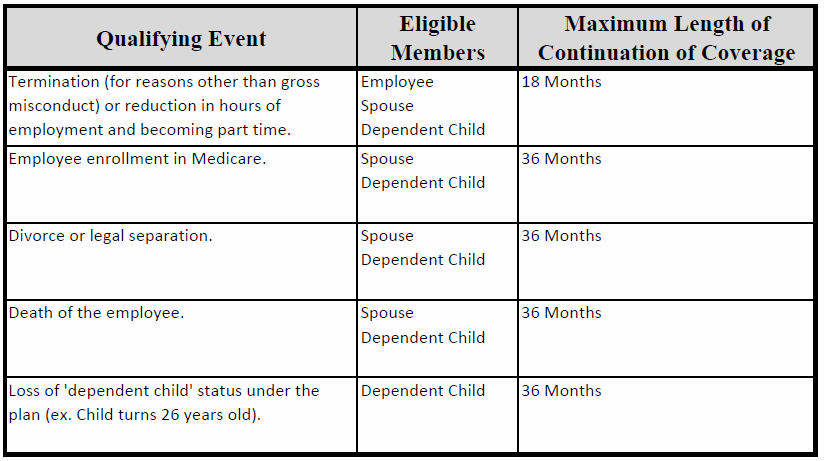 COBRA Eligibility for Businesses
Businesses offering benefits must determine their eligibility for Nevada COBRA every year. Our brokers can help you determine your eligibility. We can also help you set up Nevada COBRA administration so you can remain compliant. There are a few main rules to consider when assessing eligibility:
COBRA regulations apply to employers who offer 'Qualified Benefits'.
If your business had more than 20 full time equivalent employees for over half of the prior calendar year, you are COBRA eligible. (This calculation includes part time employees. Also it includes people not actively enrolled on your group plan.)
There are specific calculations and regulations listed on the Department of Labor's website. Consequently, these regulations can be confusing to understand. To get a simplified breakdown of your eligibility, give us a call.
COBRA Rules & Costs
Nevada COBRA establishes rules on how and when employers must offer and provide a continuation of coverage. These rules also discuss how employees and their families may elect continued coverage. Most employers require their COBRA members to pay for all COBRA premiums and additional costs. Nevada COBRA premiums cannot exceed the full cost of coverage, plus a 2 percent administration charge. To learn more about these rules, you can read more on the Department of Labor's website.
Also, people enrolled in COBRA and converting to Medicare may run into issues. The definition of 'Credible Coverage' as defined by CMS is an odd regulation which can affect people enrolling in Medicare. You can learn more about Medicare and COBRA by reading these two articles on our website:
COBRA Administration
Fortunately, there are third party administrators who can manage your COBRA eligibility, enrollments, and compliance for free. Also, certain insurance carriers help their enrolled groups through these requirements. Working with vendors who administer COBRA will help you focus on your business rather than worrying about compliance regulations.