Health insurance is FULL of acronyms which can make things confusing! Two of the most important acronyms are HMO and PPO.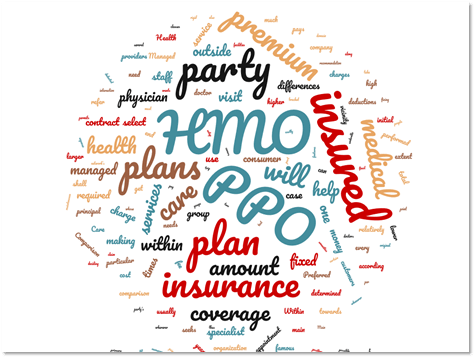 Don't worry! This article will discuss the differences between HMO and PPO in simple terms. First, let's start with the basics. The Nevada Division of Insurance defines HMO as:
The Nevada Division of Insurance defines PPO plans as:
Both HMO and PPO major medical plans are regulated by our State Division of Insurance. Every year, they release the plans and rates with each insurance company.
For most Americans, there are a few main ways to obtain health insurance on a major medical plan:
Private Medicare Plans can be classified as HMO or PPO. Depending on the county you live in, you may qualify for both HMO and PPO options. In general, most Part C Medicare Advantage Plans are HMO, but more and more Medicare PPO plans are becoming available each year!
This article does not discuss Exclusive Provider Organization Plans, also known as "EPO" plans. To learn more about EPO plans and how they compare to HMO and PPO plans, please click here.
Medicaid plans contract as HMO plans in the state of Nevada. Division of Welfare and Supportive Services assists people with eligibility and plan enrollment.
When you are a full time employee, you may qualify for coverage at work. This is called employer coverage. Most employer plans are either HMO or PPO.
If you don't fall into any of the categories listed above, you are most likely shopping for an individual and family plan! From 2019 – 2024, most of these plans in Nevada are classified as HMO. There has only been one PPO insurance company since 2019. This insurance company is named Hometown Health.
You may be starting to notice a trend — most insurance plans nowadays are HMO and not PPO. But why is that? It's simple — HMO plans costs less than PPO plans for both insurance companies and consumers.
HMO Plans
HMO plans usually cost less compared to PPO plans. Generally speaking, HMO plans are roughly 10 – 20% lower in price.
One of the main reasons why HMO plans cost less is because of the referral requirement. Primary Care Physicians issue referrals which allow you to get Specialists covered by your HMO plan. Simply put — a referral is a type of authorization which is required before seeing a Specialist.
Some insurance companies waive this referral requirement. For example, Prominence Health Plan has HMO policies without a referral requirement before seeing a Specialist.
In general, it is a safe assumption that your HMO plan will include a referral. The summary of benefits of your plan will outline if there is a referral requirement or not.
The referral requirement may seem tedious but it is a major reason why premiums and costs are lower compared to PPO plans. The insurance companies are able to control health care costs better by imposing the referral requirement to make sure insured members are not getting unnecessary treatments or tests. As you can see, health care is not cheap!
Another difference between HMO and PPO is that HMO plans do not cover out of network providers. If your doctor does not accept the HMO plan you have, then the HMO plan will not cover the medical service.  Vice versa, In network doctors are doctors who contract with your plan.
There are special exceptions to this out of network rule! Emergencies are usually covered as in network regardless if they contract with your plan or not. Also, you may get out of network facilities covered upon request for medically necessary procedures. But be careful — going out network will cost you A LOT of money!
PPO Plans
Many people are willing to pay more for a PPO plan compared to an HMO plan. There are a few main reasons why PPO plans may be better for you than an HMO policy.
First off, PPO plans do not have referral requirements like HMO plans, regardless if you are in network or out of network.
Without the referral requirement, you can go directly to a Specialist which saves time and money! For example, here are the copays on a high benefit HMO plan through Ambetter in Nevada's 2021 Individual Health Insurance Market:
Non-contracted providers are covered under your out of network benefits on your PPO plan. Be careful – out of network benefits have much higher deductibles and out of pocket expenses. Take a look at the out of pocket differences on this PPO employer plan through Anthem:
Going out of network can cost you significantly more than going to a doctor on your plan's network list.  With how expensive health care premiums are nowadays, you will want to make sure your out of pocket expenses are as affordable as possible!
Health care is not always about the cost. Health care is also about access! PPO plans usually have larger network lists compared to HMO plans. This is very important to keep in mind as we all face the physician shortage crisis here in Nevada.
Many people buy PPO plans so they can have a larger list of doctors. This helps mitigate the issue of long wait times. With more doctors at your disposable, you have more options!
Most PPO plans have nationwide networks. Be careful — some PPO plans will only give you access to certain providers, like emergency rooms and urgent cares, outside of Nevada. It is always important to research your network before purchasing a plan.
So…Which is Better?
Every person's situation is different! Sometimes HMO plans work well for people and sometimes they don't! In general, if you can afford a PPO plan we recommend enrolling in PPO. PPO plans will give you more doctors to choose from with less hoops to jump through.