What are the disadvantages of Medicare Supplement plans?
In this article, I will go into detail on some of the biggest disadvantages of choosing a Medicare Supplement plan.
First of all, here is a basic overview of what a Medicare Supplement is.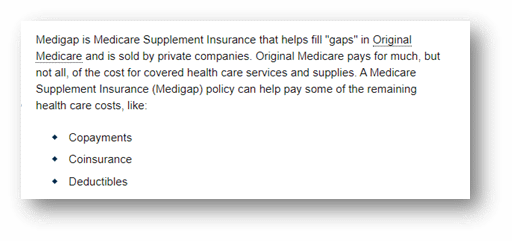 Like anything in life, there are tradeoffs.  This is no different when it comes to choosing a Medicare plan.
When you are deciding between a Medicare Supplement and a Medicare Advantage plan it is important to know the differences.

I want you to know, however, that there are two sides to every coin.  Three if you want to get specific.
Here at Health Benefits Associates, our office wants each client to find the best plan that works for them. We are unbiased and work with all the insurance companies that offer both types of plans here in Northern Nevada.

Our services are free, and our goal is to go through these differences with you.  We are most comfortable when we know our clients are on the best plan that suits their individual needs.
A Bit of History
As early as 5 years ago most people turning 65 signed up for a Medicare Supplement plan.  In recent years that trend is shifting towards Medicare Advantage plans.
In that same amount of time, the population of Reno is skyrocketing while the number of doctors has not kept up with the growth.  This, as you can imagine has caused a shortage of physicians in the area.
Medicare Advantage plans with a strong lineup of
benefits have also been introduced at that time.  These plans with dental, vision, and hearing aid benefits have given supplement plans a run for their money.
Disadvantages of Medicare Supplement Plans
There are many factors for this shift.  One of the biggest reasons is the disadvantages of Medicare Supplement plans.  Here in Northern Nevada, the disadvantages have been exacerbated due to the shortage of physicians.
If you sign up for a Medicare Supplement plan and you are not already established with a physician, you may find it difficult or impossible to make an appointment.
This surprises people because Supplement plans
are known to have the largest network of doctors.  Any doctor in the United States that accepts original Medicare will accept a Medicare Su
pplement.
However, here in Reno, you may not be able
to become a new patient.  Many local doctors do not accept new patients on a Medicare supplement plan.
Medicare Supplement plans do not include benefits such as dental and vision.
Medicare Supplement plans will ask health questions.  If you attempt to sign up for a plan after the 6-month guarantee issue period.
Additionally, if you want to change Medicare Supplement carriers, you will be asked health questions.
Here is a sample of some underwriting questions you may be asked by the insurance company.
The underwriting/health questions are not easy to pass.  Some carriers will accept you, even if you do not pass the health questionnaire.  However, you will be paying almost 200 percent more in premium.
The Cost

While most Medicare Advantage plans come at a $0 monthly premium, Medicare Supplement plans come with a monthly premium.  The male rate is usually a bit more expensive than the female rate.
The monthly premium is also going to increase annually.  After a number of years being on a plan, many of my clients cannot afford those premiums.
In addition to the monthly premium for the supplement plan, the Part D drug plan comes at an additional cost.
Most Medicare Advantage plans (also known as MAPD), have the Part D built into the plan.  This comes at no additional cost.
In general, supplement plans do not cover ancillary benefits such as vision, dental, and hearing aid coverage, and they must be purchased separately.
Most Medicare supplement plans do not come with a gym membership or over-the-counter benefits.
Personal Touch
Here at Health Benefits Associates, we pride our service on taking a personal touch with each and every one of our clients.
I mentioned before that while Medicare Supplement plans have disadvantages there are also many advantages to them.  In fact, Medicare Supplement plans are perfect for many of our clients.
This article outlines the disadvantages of Medicare Supplement plans to you.
It is important to mention, that if you come in for a Medicare meeting to go over your options, we will give you the pros and cons of both Medicare Advantage and Supplement plans.
In Conclusion
Looking back at the disadvantages of Medicare Supplement plans we can see there are many.  I want to stress, however, that there are tradeoffs with everything.
This article is simply a way to layout the disadvantages in one article.  It is by no means a way to bash supplements.
I mentioned that many of our clients here at Health Benefits Associates are on supplement plans. Keep in mind, that before they signed up, one of our brokers walked them through the entire process.
The most important facet to each and every one of our brokers is that our clients sign up on the plan that works best for them. Whether that is a Medicare Advantage or a Medicare Supplement plan.