A Guide to Enroll in Medicare Advantage Reno
In this article, I am going to go over the steps to make the process of Medicare Advantage Enrollment Reno as simple as possible.
There are numerous Medicare Advantage Plans available in Reno.  Also, there are two local carriers that are offering plans with very strong benefits.
Here in our office, we have helped thousands of Renoites get signed up on the plans that work best for them following these 7 simple steps:
Call Our Office with Questions About Medicare Advantage in Reno
Meet with One Of Our 7 Licensed Medicare Brokers
Review the Different Medicare Advantage Plans Offered in Reno
Dive into The Benefit Package
Answer Your Questions
Submit an Application
     1. Call Our Office with Questions about Medicare
Let's face it:
Medicare is confusing.
Additionally, it does not help that in the years and months leading up to your 65th birthday insurance companies are bombarding you with their marketing material.
If you have had or are having this experience it is a good idea to call our office.  One of our 7 licensed brokers can help you sift through all the material.
Not only are the number of insurance companies confusing, but the eligibility dates also to pay attention to can often be overwhelming.  The good news is that Medicare Advantage Enrollment in Reno has a couple of local carriers offering plans.
We can simplify the process for you.  Come by and see us.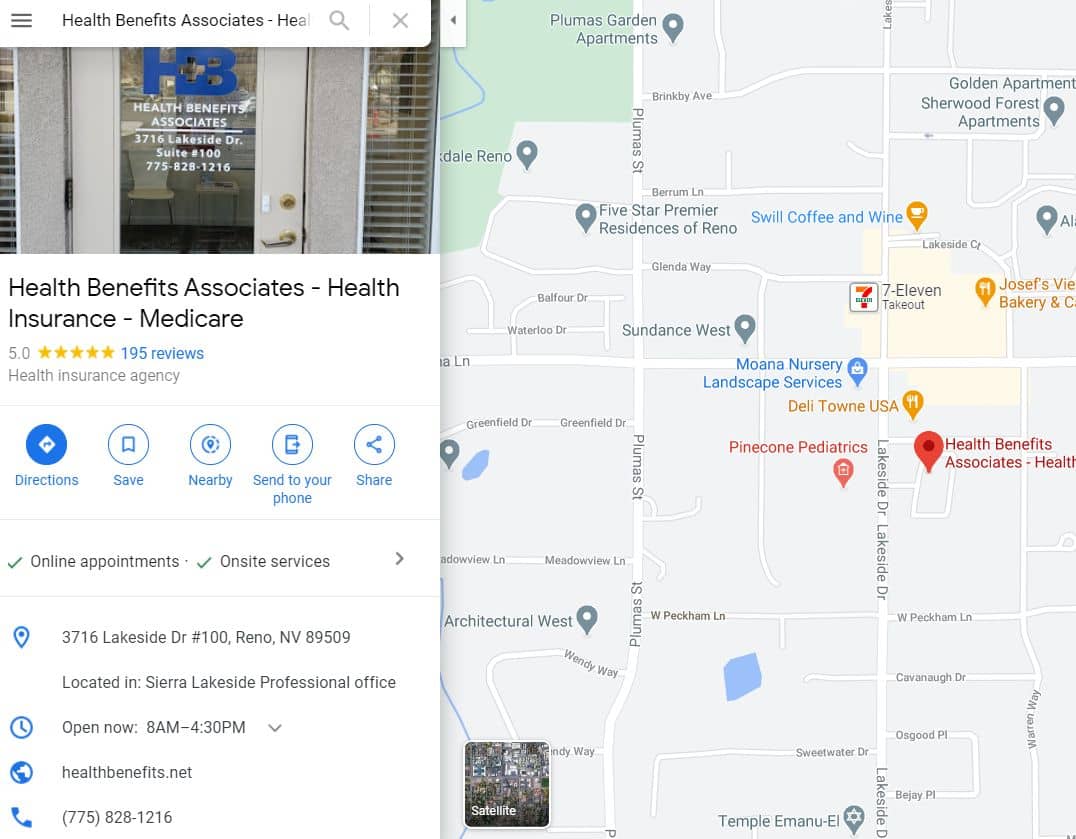 2. Qualify for Medicare Parts A and B

Medicare Advantage Enrollment in Reno, like elsewhere in the country requires you to have Parts A and B.
The next question.  How do I qualify for Parts A and B?
Turning 65
Under 65 on Social Security Disability Insurance (SSDI)
These are the two ways you can qualify for Parts A and B.
Your next question may be, when can I sign up if I fit either of these criteria?
Initial Election Period
24 Months on Disability
The initial election period is 3 months before turning 65, the month of your 65th birthday, and three months after your 65th birthday.
Not all people want to sign up for Part B when they turn 65.  What are their options?
Delaying Part B while on credible coverage. Follow this link for more information.
Most importantly, if delaying, and not on a credible coverage plan, there could be a penalty.
A credible employer-covered plan will come with prescription drug coverage.
The penalty is for life. Click this link for more information.
     3. Meet with One Of Our 7 Licensed Medicare Brokers
Here at Health Benefits Associates, we have 7 licensed Medicare brokers on staff to assist you.  If you are calling because you have been getting bombarded with marketing materials from Medicare Advantage carriers, we can help you.
If you want to make sure that you are on the right track with Parts A and B, give us a call.  We shop all of the Medicare Advantage plans in Reno.  Here is a link to further assist you.
Maybe you're not sure how much a Medicare plan costs, or which benefits are available.  We can help!
Perhaps you're undecided between a Medicare Advantage plan and a Medicare Supplement plan, we can explain both.  Follow this link to find out the differences between Medicare Parts and Plans.
     4. Review the Different Plans Offered in Reno
Now that you have met with a broker, it is time to review all of the different Medicare Advantage plans that are available to you here in Reno.
Meeting with a local broker is ideal because we can show you plans that a national broker does not have access to. There are two plans based right here in Reno that are excellent choices.
While many of the national plans may offer benefits that sound attractive many have drawbacks and tradeoffs that are very important to know.
Additionally, another benefit of going with a local broker is that we can have you into our office for an in-person meeting.  Of course, with the current environment, we are fully set up to do an online or telephonic meeting as well.
Many of my clients really appreciate the personal touch.
     5. Dive into The Benefit Package
During the meeting is the time to dive into the benefits of each plan. However, Medicare Advantage plans do require the potential client to sign a Scope of Appointment.  This is a law that the Center for Medicare and Medicaid requires all agents to present.
Once signed, we can go over all of the benefits from each plan.  This is a great way to really compare the plans side by side so we can help you choose the best plan that suits you.
Many MAPD plans include vision, dental, hearing aid, and prescription drug coverage.
This is where we like to be thorough to show you all the plans and benefits.
     6. Answer Your Questions
Questions about doctors lists, pharmacies, drug coverage, and access come up all the time.  Do not hesitate in asking us about your doctors and to see if they are covered.  We can also input every single prescription you are on and see if it is covered and the cost.
Each plan also has preferred pharmacy's that we can locate the one that is most convenient for you.
     7. Submit an Application
Everything is automated these days.  So instead of having to fax in an application or submit the paperwork via snail mail, we simply submit the application through the carrier's website.
We can do this while you are on the phone, or in our office.  It makes it so convenient for the client.
     Do You Still Have Questions?
I am sure you still may have some questions. Medicare is a complicated process and I know I did not cover everything in this short article.  Please call us here in our Reno office to have your questions answered. Until then, have a great day!